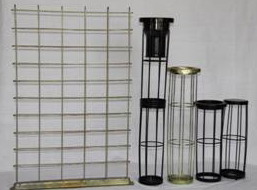 Filter Cage
Filter Cage is one of components that is used in dust collector, its main function is to support filter bags inside of dust collector. Fine design, good weldding, perfect finishing treatment that will extend the using life of filtber bags.

Our Filter Cages are designed strictly accroding to the hole diameter of cell plate and filter bag diameter and length. All the cages are welded by advanced multi-points welding machine, so the filter cages have better welding spots, stable vertical and smooth surface.

Now there are mainly three kindly of finishing treaments for filter cages:
--- Galvanized
--- Spray organosilicon dope (anticorrosive, resistant high temperature, it can be instead of stainless steel)
--- Spray painting or plastic.

Normal wire diameter is 3.2mm, 3.5mm, 4.0mm, Max 5.0mm, the number of stringers have 8, 10, 12, 16, 18, 24. Filter Cage diameter have Φ 115, Φ 125, Φ 145, Φ 195, Φ 245, Φ 295 or according to your requirements.

Welcome your enquiry.